Spot 4


Gotoku-ji Temple (Miyanosaka Station)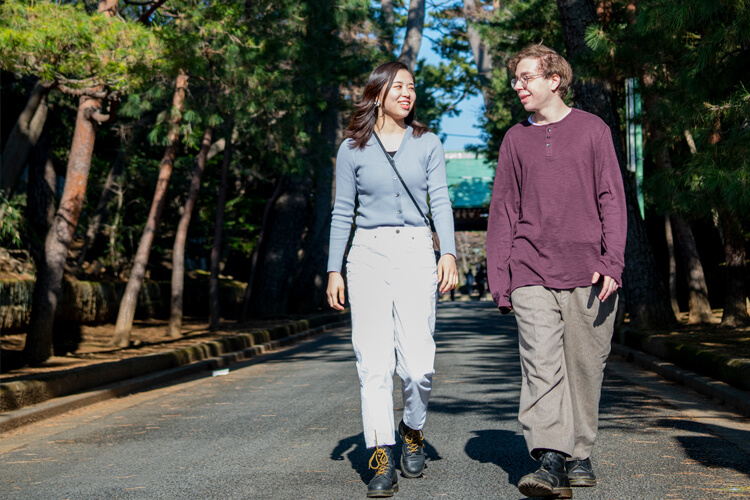 And now there's one more spot in Miyanosaka to check out: Gotoku-ji! Actually, this is my first time here.
I've been here before. It's famous for the Lucky Cats after all.
Right! This temple is said to have been built by the lord of Setagaya Castle, Kira Masatada, and later became known as Bodaiji Temple under the care of the Ii family during the Hikone Domain. It's also famous for housing the grave of Naosuke Ii.
There sure are a lot of ema (prayer plaques) hung up. There's even a lot written in English, seems like a lot of foreign tourists come here. I think I'll try writing one later.
Alright, Let's head over to the Hall of Good Luck Charms!
Whoa! There are so many The manekineko here! The word Manekineko in English translates to "beckoning cat", and overseas in Japanese restaraunts are a common sight. But, I wonder why there are so many here.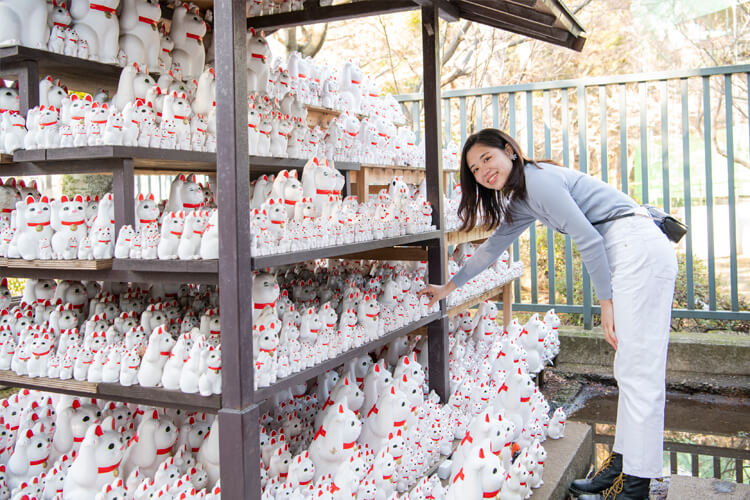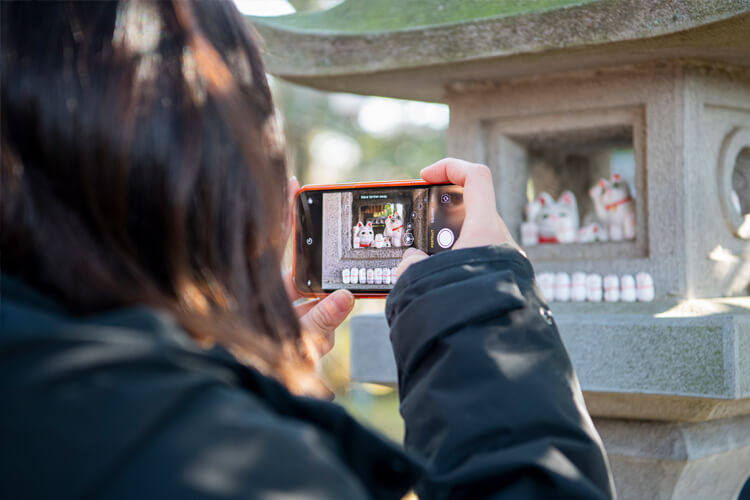 Although there are various theories, Gotoku-ji seems to be well known as the birthplace of the manekineko. There is a legend about one priest's beloved cat Tama who saved the Hikone feudal lord Naotaka Ii from a lightning strike by beckoning to him in the way that the lucky cat statues do. The statues here denote wishes that have been granted. In other words, all of these show dreams that came true!
I wonder how many of them there are, I can't even imagine.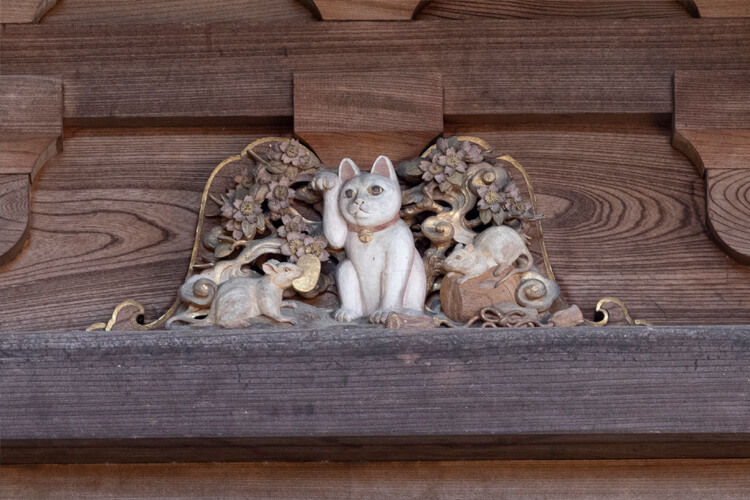 In front of the hall there is also a three storied pagoda with cats carved into it, I wonder where they are. Let's have a good look and try and find them.
It's true! There's one right there! Oh, and there! I wouldn't have seen them if you hadn' t mentioned them.
Oh yeah, what'd you write on your ema?
"I hope for a good semester"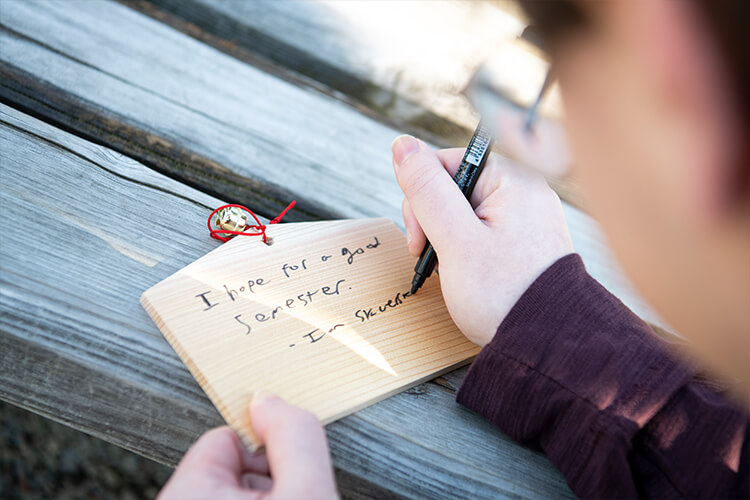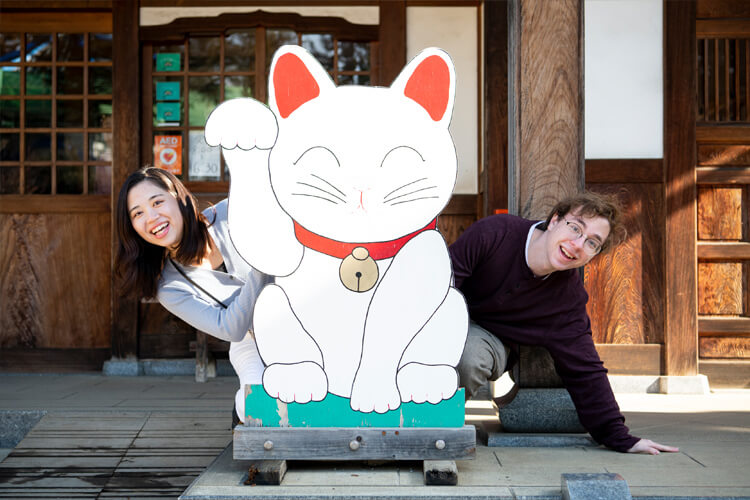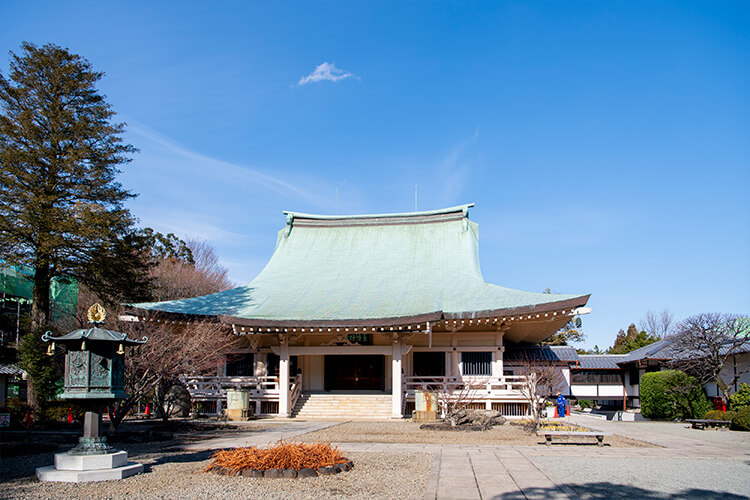 Gotoku-ji Temple
Address: 2-24-7 Gotokuji, Setagaya-ku, Tokyo
Temple gates are open 8:00 a.m. to 5:00 p.m. from spring to autumn and 8:00 a.m. to 4:30 p.m. from autumn to spring.
Access: Three-minute walk from Miyanosaka Station
Spot 5


Shoin PLAT / POLARIS


(Shōin-jinja-mae Station)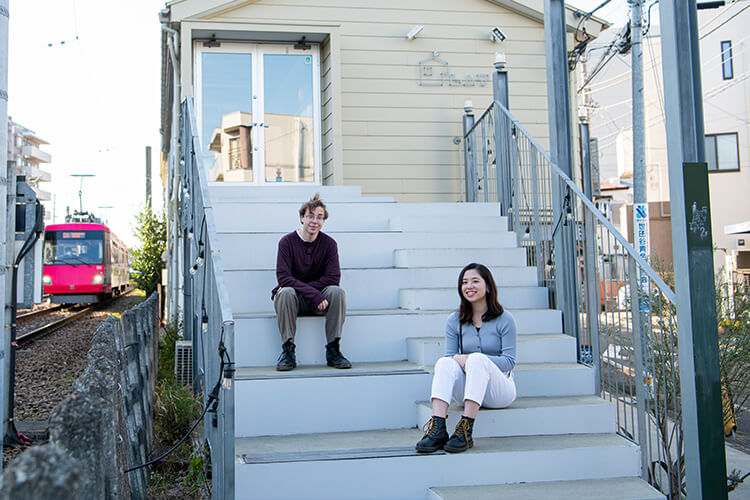 We've come to Shōin-jinja-mae Station. Let's relax and enjoy shopping!
What's that building right by the station? It's a shop but it kinda looks like an apartment building.
That stylish space is Shoin PLAT, and was an apartment complex for about 50 years before it was renovated and general stores and food and drink shops were put in.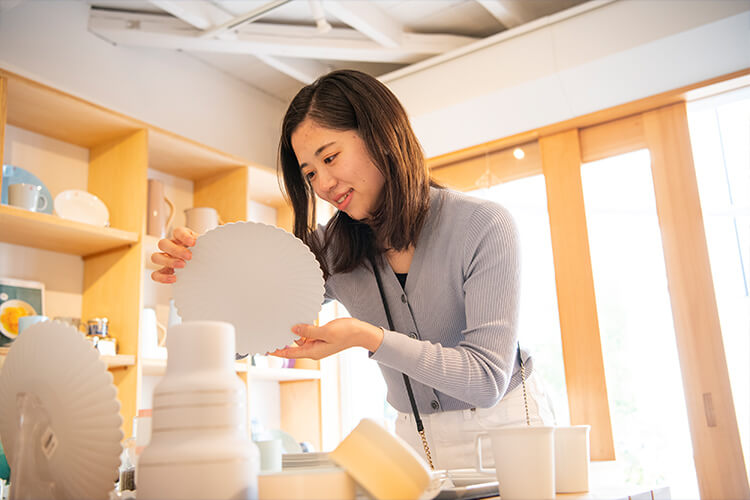 I like that staircase! And something is written on that blackboard... I see! It talks about various events and such. Let's check out the shop on the first floor, POLARIS.
They sell a collection of goods from Japan and Northern Europe apparently. A bright and soft atmsophere, ceramics and similar goods lined up really create a warm and welcoming vibe. From Middle Eastern style vintage mugs to a RIGTIG breadbox! I'd never heard of that before, but it's so pretty. I really love Northern European goods!
I found some stuff from Japan too! This one has soy sauce in it. And this one that smells like a forest is... Aomori Hiba!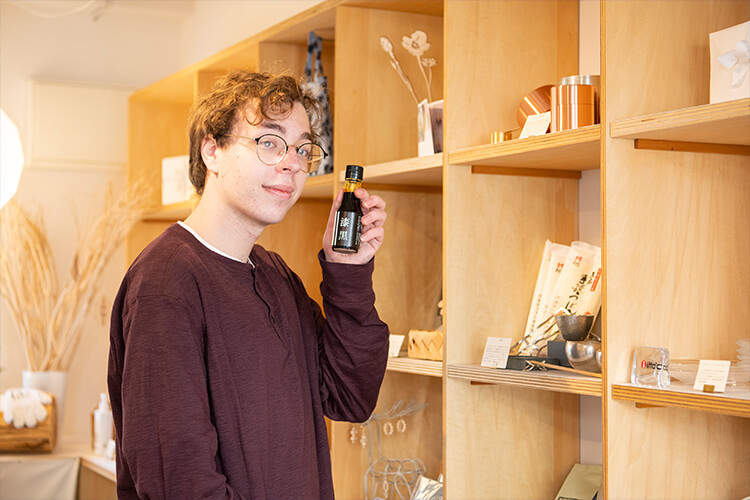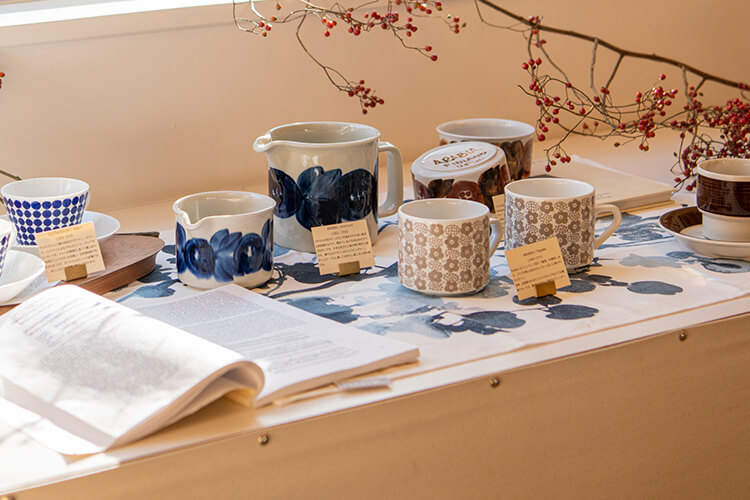 Japanese and Northern European goods really do go well together, very effecient yet simple. It makes you want to collect them all.
They'd also make great gifts. I think I might look for something for a friend's present here sometime.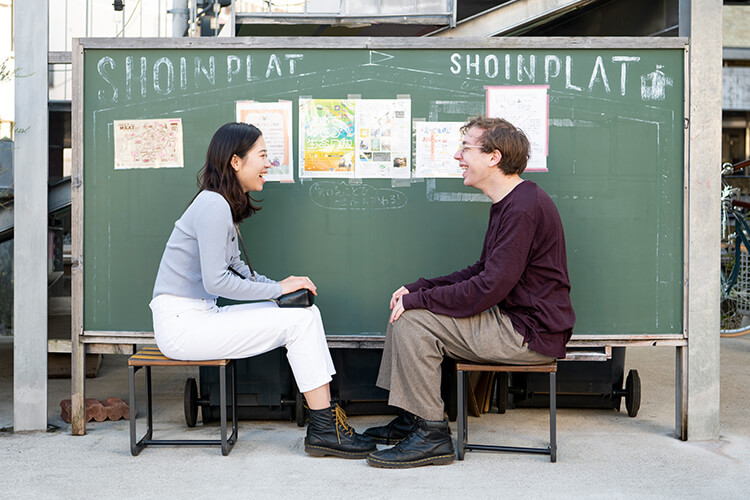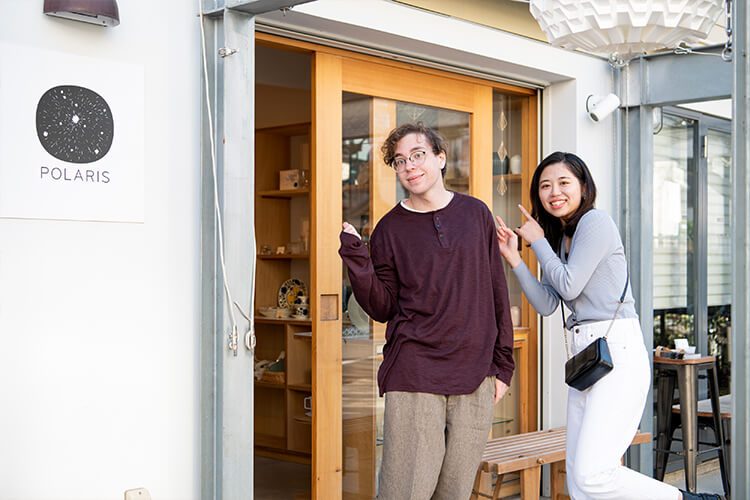 SHOIN PLAT / POLARIS
Open 11-7 PM
Closed Monday and Wednesday
Sometimes open by owner's convenience
Cash not accepted, only card or electronic payment.
Spot 6


Asian Kitchen Saigon


(Kamimachi Station)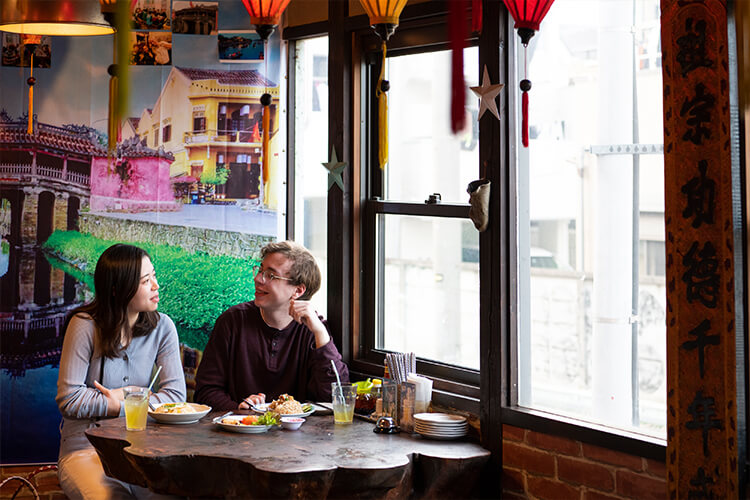 I had a great time today! Finally, let's stop at Saigon to get a bite to eat.
What a lively looking place. We walked a bunch, so I'm pretty hungry. So this is an Asian restaraunt?
It's Vietnamese food! It's been open for around 20 years, and is popular with both locals and people from Vietnam itself and all around.
You can see the tracks from the window here. It's big, so I wonder if we'll be able to see the Setagaya Line train.
Also, the lanterns hanging in here are really dreamlike. The interior is also beautiful. Kind of feels like an outdoor stand like they have in Vietnam.
We got the Saigon Fried Rice (740 without tax) and the Vietnamese Pork Fried Rice (950 yen without tax) and the fried spring rolls (580 yen without tax). Let's eat!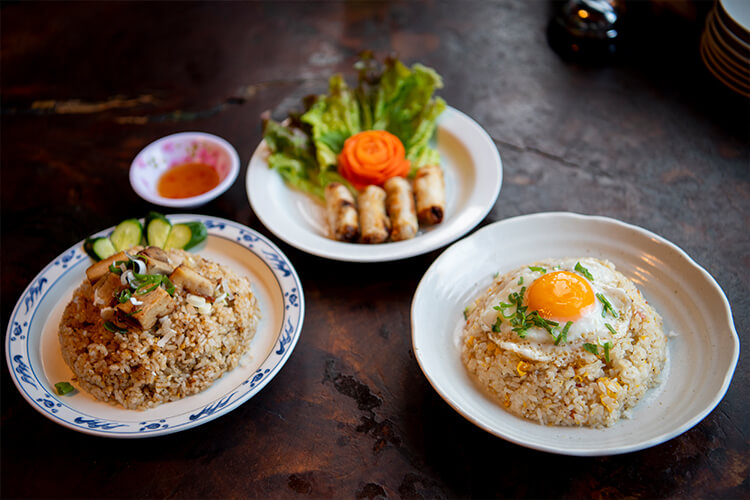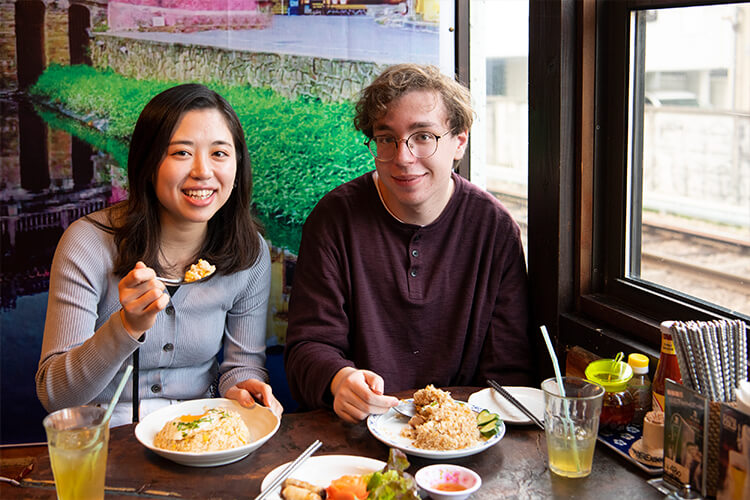 Yup! It's all delicious. And the portion size is nice too.
True! And it's nicely tailored to Japanese tastes. The fried rice is Vietnamese style, but something about it feels nostalgic. We work together at school doing the Global Cafeteria Project so maybe we'll be able to count this as research!
You're right! That was amazing, I'm so full.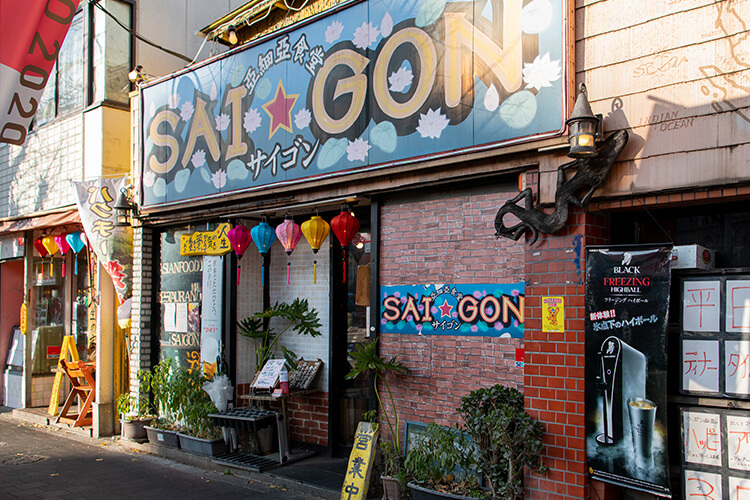 Asian Kitchen Saigon
Address: 4-13-20 setagaya, Setagaya-ku, Tokyo
Hours

:
Tues, Thurs
11:30~15:30(L.O.14:45)
17:00~24:00(L.O.23:00)
Sat, Sun, Holidays
11:30~24:00(L.O.23:00)
Closed Mondays (in the event Monday is a holiday, closed Tuesday)
So what did you think of our trip around the Setagaya Line?
It was so fun! We got to go to a lot of places and learn about the history of Setagaya. I'm glad we could do this together!
Me too. There really are a lot of places of interest around the Setagaya Line that you can go to even in just one day. Another big thing was that we were able to get on and off the train as much as we want, thanks to the Setagaya Line Explorer Ticket.
Along the line there's so much nature, and it's really a nice feeling. Tokyo has the image of this big city, but around here it's quiet and very nice. In Philadelphia, the trains don't always come on time and since I don't have a car it was tough moving from place to place. But in Tokyo I can go anywhere by train conveniently which is really nice.
I definitely also want to check out the stops we didn't get off at today, they look fun and like there's a lot to do.
Good idea. When we have another chance let's do it! I'm sure we'll find something new!