2 university students who commute to Sangen-jaya introduce their favorite local spots!
Profiles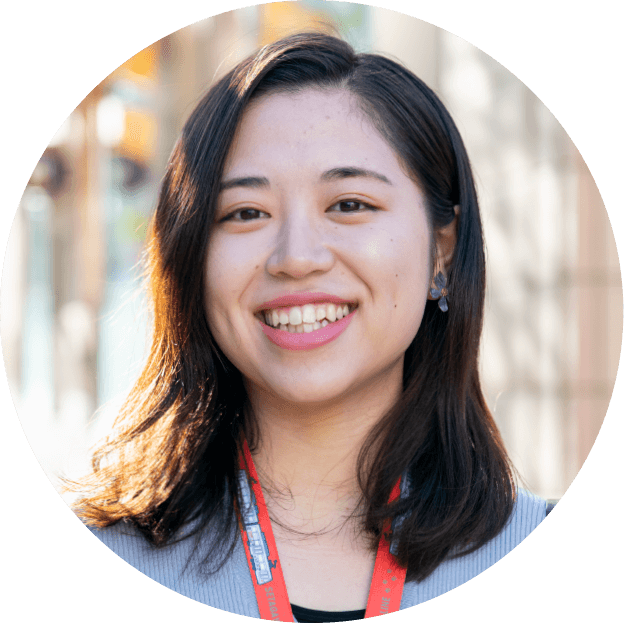 Ayane Hatakeyama(21)
Showa Women's University 3rd year
Birthplace: Chiba Prefecture
Interests: Film festivals, cooking, guitar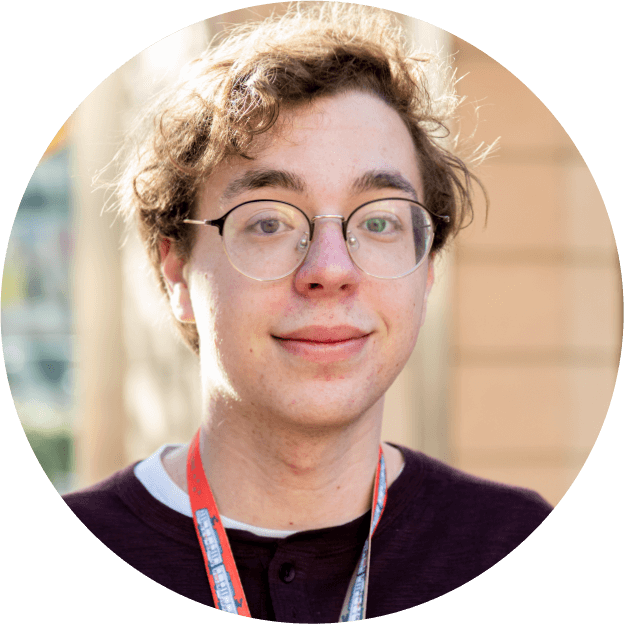 Ian Skversky(19)
Temple University Japan Campus 2nd year
Birthplace: Philadelphia
Interests: Guitar, Tsugaru Shamisen
Hello! Today, the two of us are going to explore and introduce the area as we ride from place to place on the Setagaya Line. By the way Ian, have you ever ridden the Setagaya Line?
Of course! I live nearby, so when I go out I often use it. The "Kofuku-no-Manekineko Densha" (the beckoning cat of good fortune train) is really cute and has a warm, nostalgic kind of atmosphere. Where are we headed today? Before we leave, lets search a bit about the Setagaya Line itself.
Do you know TripAdvisor? When you search Setagaya Line on it, a lot of interesting places around it come up. Lets check out some of those.
On the Tokyu Setagaya Line page, it says something about an excellence award. The Setagaya Line is famous for its tourist attractions apparently, I had no idea! I always just rode the line when I felt like it but today I kinda feel like a tourist, so I think this is gonna be fun! I`m looking forward to it.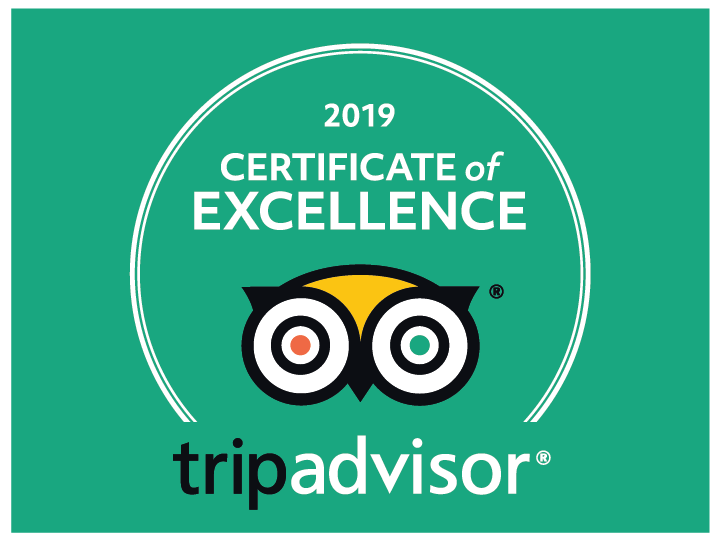 What is the excellence award?
It is an award given to accomodations, tourist attractions, and restaurants that consistently recieve high ratings from travelers.
Departure from Sangen-jaya!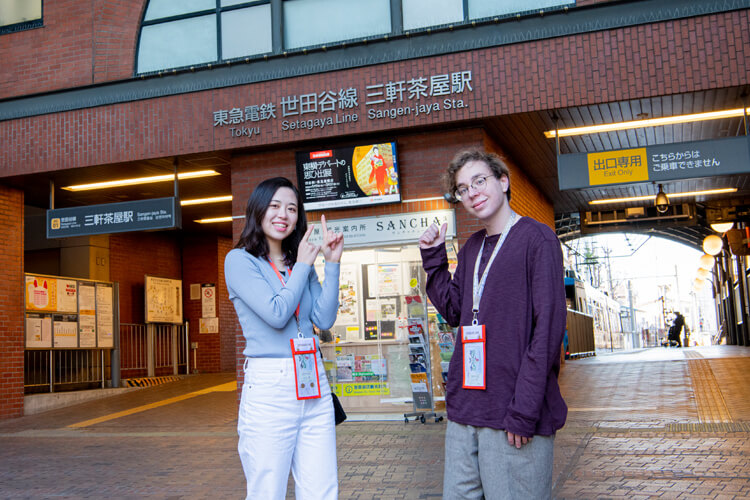 Since we're just riding for the day, it looks like the Setagaya Line Explorer Ticket is our best deal. For only 340 yen for adults, we can ride the line as many times as far as we want and as much as we want! For days like this when we want to go all over the place it's perfect.
Wha, it's really that cheap? A normal ticket costs 150, so if you ride more than 3 times it really is a great deal. Lets go with that!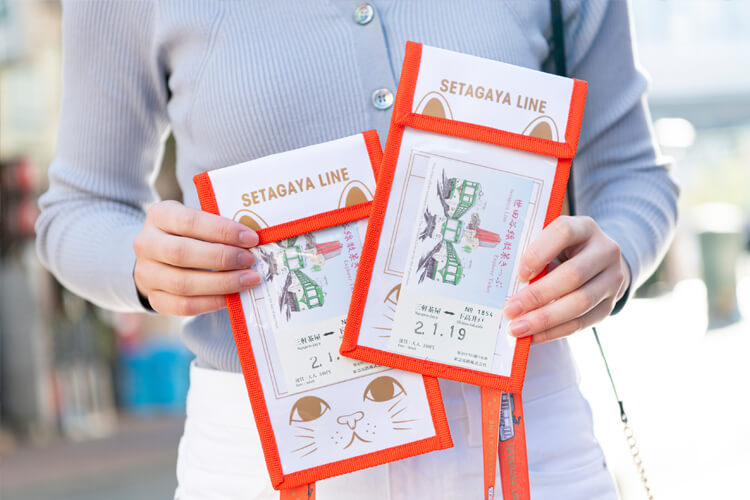 Look at this! Right now there's a special "Kofuku-no-Manekineko Densha" themed ticket holder being sold. We can put the Setagaya Line Wanderer ticket in, and since it looks like it can hold a lot of little things I could see myself using this on a regular basis. The cat picture is cute too!
Since we already have the ticket holder, lets get going!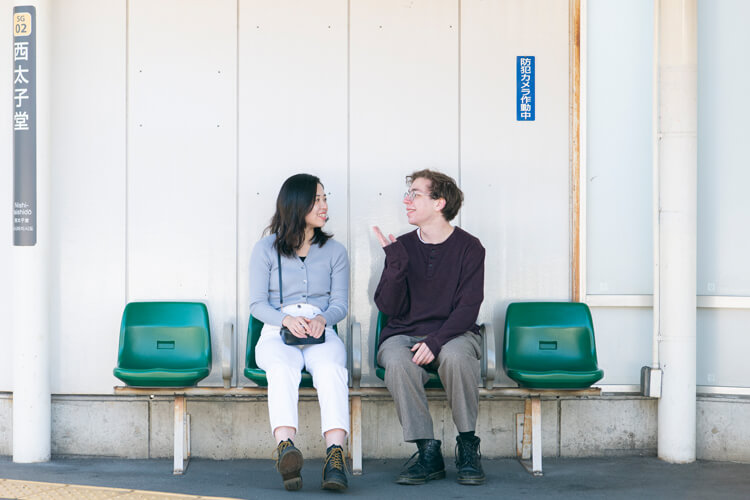 Spot 1


Saisho-ji Temple (Meao Fudo)

(Sangen-jaya Station – Nishi-taishidō Station)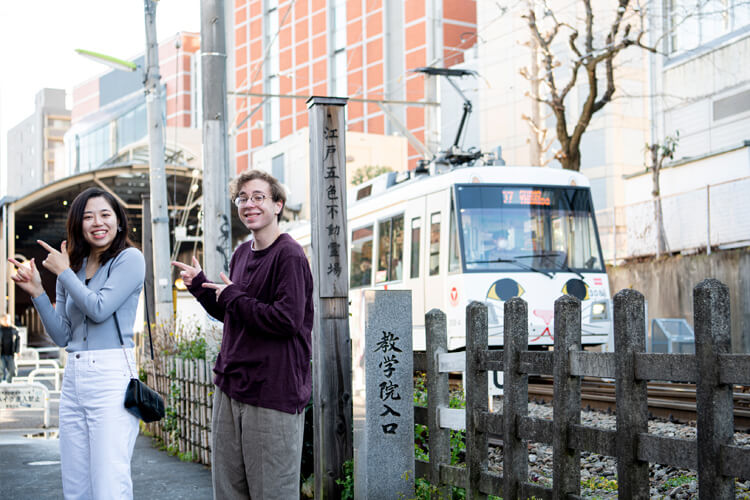 We're here at our first spot, Saisho Temple! There are both new and old paths, but the one along the Setagaya Line is the new path so let's enter through there.
This place is right by Nishi-taishidō Station which is just next to Sangen-jaya Station, but I had no idea such a quiet and calm place was in the area. This place is really atmospheric, it's cool.
A: It looks like this temple used to be in Azabu, but was relocated here. This sign says "in 1311 this temple was founded by the monk Genno". This temple has an amazing history.
1311?! In Philadelphia we don't have anything that old. America itself was founded in 1776!
During summer it looks like this place is really verdant. Being able to live in the middle of the city and still experience nature like this is really a luxury! First off let's go pay our respects.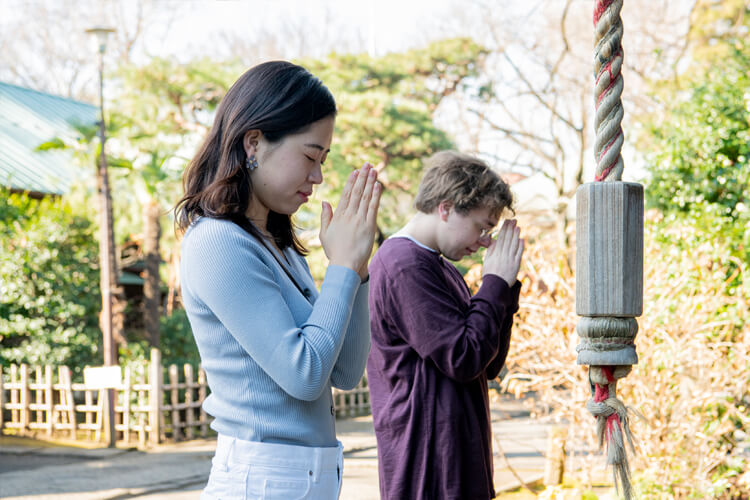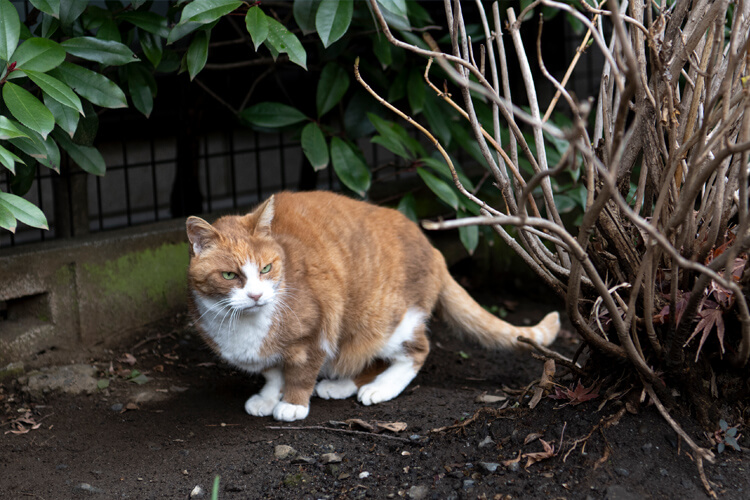 I wonder what this big tree is...
The sign says it's Ehretia acuminata. It's been here for a hundred years apparently. It's also been chosen as one of Setagaya's "Precious Trees".
This trunk is amazing! I can't even get my arms around it it's so big. You really feel the history.
As spring rolls around the sky gets filled with leaves. I always look forward to when it gets warmer out every year.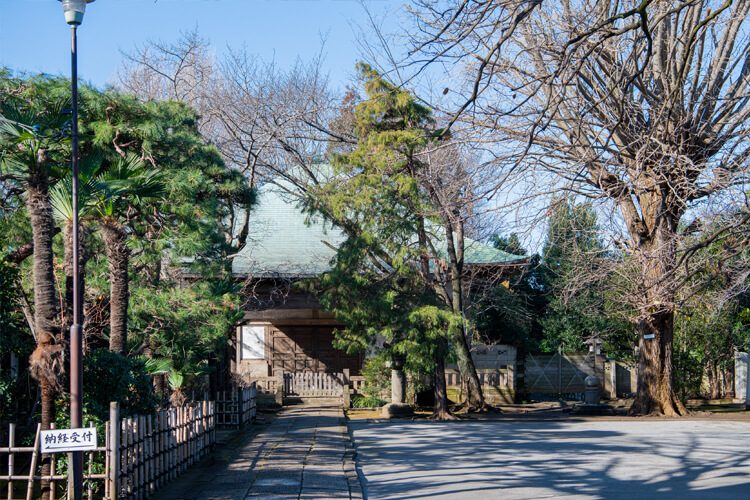 Spot 2


Former Tamagawa Line Tramcar

(Miyanosaka Station)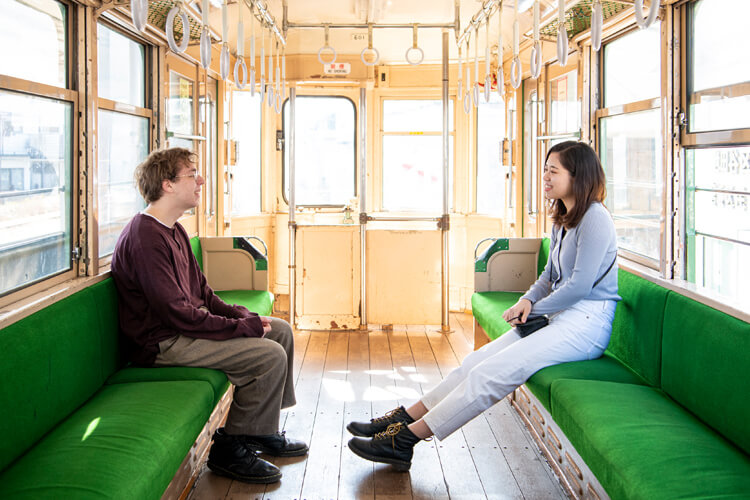 Next up, we came to Miyanosaka!
We got here in what felt like no time after boarding. Having the stations so close and compact with eachother is definitely a special feature of the Setagaya Line. Looks like there's an old train car right next to the platform, what is it?
It says it's from the old Former Tamagawa Line Tramcar. Originally made in 1925 it ran along the Tamagawa Line and the Shimo-takaido Line, adn afterward it was used along the Enoshima Electric Railway. It was retired and brought here in 1990, as something of a permanent exhibit. It ran for 65 years, incredible!
Whoa! I love how retro it is. And to boot we an enter it for free!
The color of the seats is a really cute green, adn the wooden floorboards gives a nice vibe. It looks like something I could upload on social media!
I wonder if there used to be a lot of trains like this one running. Even though it's so old it all looks brand new. When you look from the window it's as if it's really still running.
Haha, it really is!
This is a place where you can get in touch with the history of Japanese rail. It makes me want to learn more about the Setagaya Line.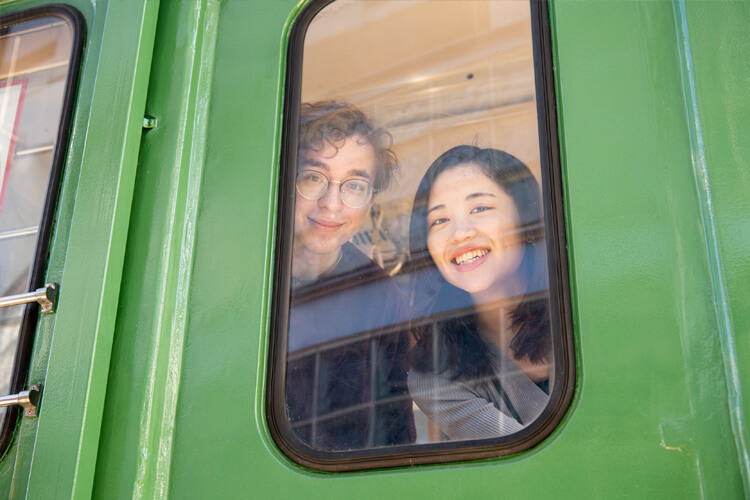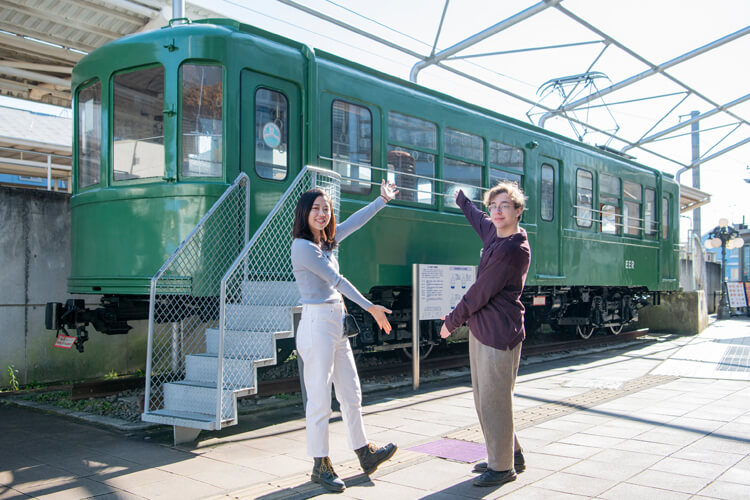 Spot 3


Setagaya Hachimangu Shrine

(Miyanosaka Station)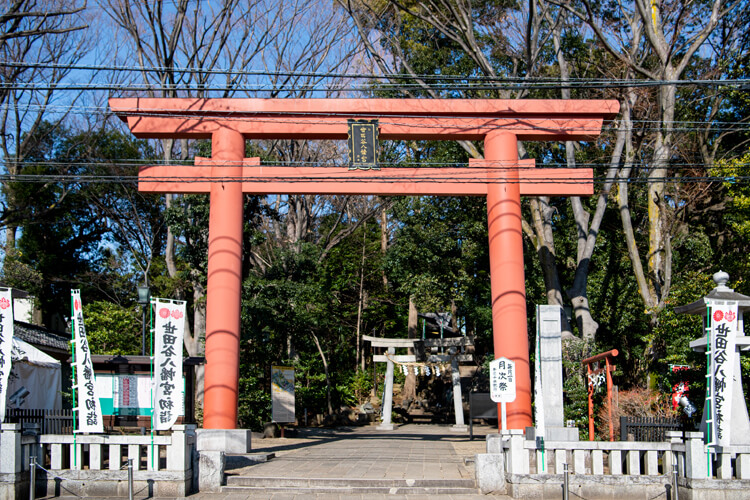 Miyanosaka is home to a lot of cool places to see, one of which is here – the Setagaya Hachimangu Shrine.
It's super close to the station. It's a very short walk from the Former Tamagawa Line Tramcar, so it's definitely something I'd love to check out. The torii gate is huge... It has the atmosphere of being in a forest, so it's really chill. Once you enter there's also an even smaller shrine with its own torii inside, called Itsukushima Shrine. There's even a lake with ducks swiming in it, they're so cute!
Let's head up the stairs and see what's inside.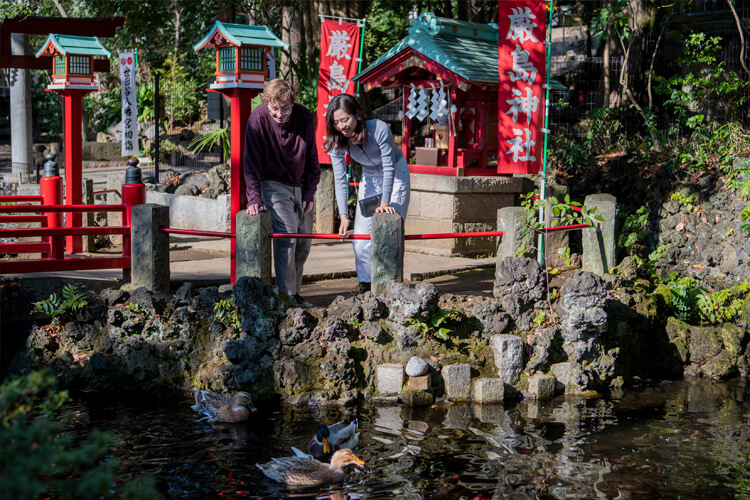 There's the main building over there! It's a beautiful red color. Huh, there's some kind of arena over there, what for?
Every September they hold a festival here and apparently during it there's sumo wrestling! It seems like a lot of people turn up. Seeing sumo so up-close must be impressive.
Let's start by washing our hands at the purification station. No worries, I know how!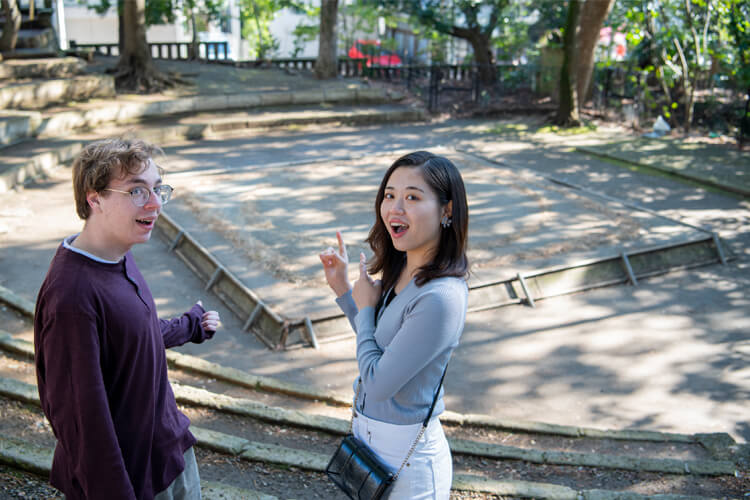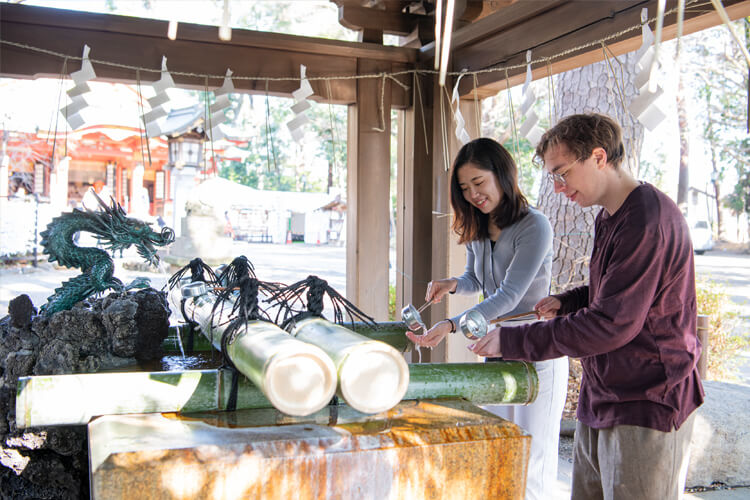 Apparently it was founded in 1091 by the samurai Minamoto no Yoshiie in celebration of a victory. At that time the soldiers started doing celebratory sumo, and that's how it began. This shrine was chosen as part of the "Hundred Views of Setagaya" under the name "Setagaya Hachimangu Shrine, Known for its Celebratory Sumo".
I see. It certainly has an amazing history. Speaking of, this stone dog has a child! He looks soft. And over here there are a bunch of stones lined up called "Strength Stones". I guess they used them to test peoples' strength. They look heavy.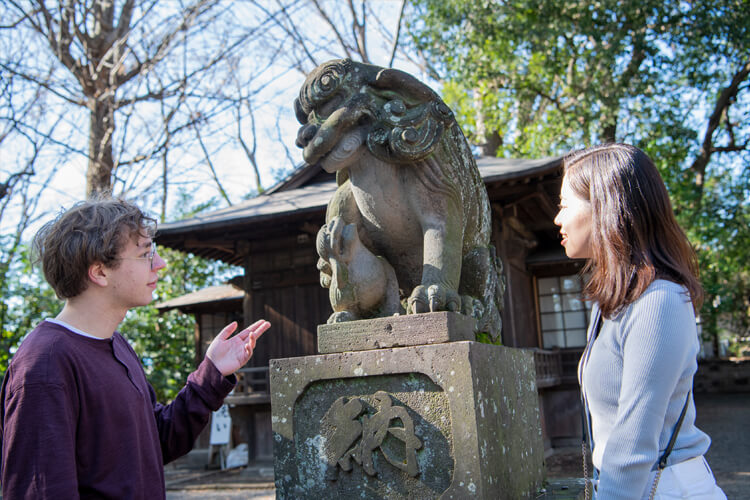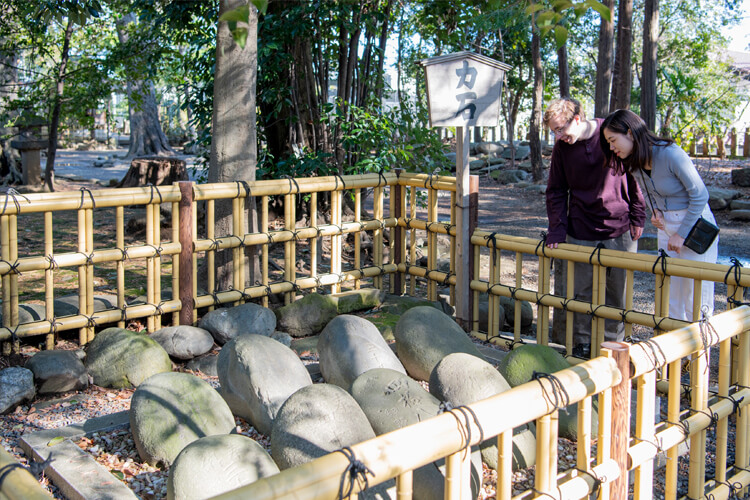 Oh yeah, I heard a famous rock band has a song about this place! I'll search it later.
Really! That's awesome, the reason I even originally learned Japanese was because I love Japanese rock bands.